Is Your Water Clean and Safe?
Clean water is vital to our health for drinking, showering and cooking food. Most people today drink chlorine-treated water that still contains many harmful bacteria, chemicals and other contaminants.
---
"Legal" does not necessarily equal "safe". The federal government's legal limits are not health-protective.
Armstrong Comfort Solutions delivers a comprehensive range of smart and effective solutions to remove bacteria, heavy metals and chemicals from your water. Knowing where your water comes from and what types of contaminants it contains is an important part of designing the best solution for your home.
Let our trained technicians and Comfort Consultants guide you in identifying what is in your water and the best product to provide you clean, healthy water that is good for not only drinking but for your skin and your plumbing!
Three Solutions
A variety of filter types are available to remove specific contaminants from water. Filters come in a several sizes and configurations based upon installation location inside the home and volume of water flow that needs to be filtered.
RO systems are designed to slowly pass water through a very fine membrane designed to block nearly all substances in the water. It is often referred to as the pure drinking water solution.
Higher quality drinking water systems combine filtration and RO to deliver the very best in drinking water quality, taste and system performance.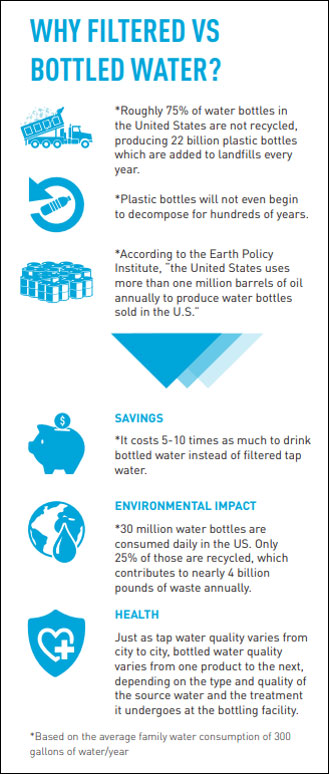 Solution 1 - Filtration
Professional Series CARTRIDGE Style
Cartridge style filtration is typically a "Point of Use" application based upon the gallons/minute the system can effectively filter (typically 2 gallons a minute or less
Typical installations are; kitchen/bathroom sink, pot filler, refrigerator, ice maker or similar.
Cartridge style filtration systems come in 1, 2 and 3 stage configurations, meaning the water is filtered through 1, 2 or 3 separate filters all in a single installation.
Cartridge replacement is spill-proof, convenient and suitable for homeowners to change their own filters should they choose.
Cold Water filtration only. Not designed to filter hot water.
A number of different cartridge filter types may be used based upon the specific contaminants being present.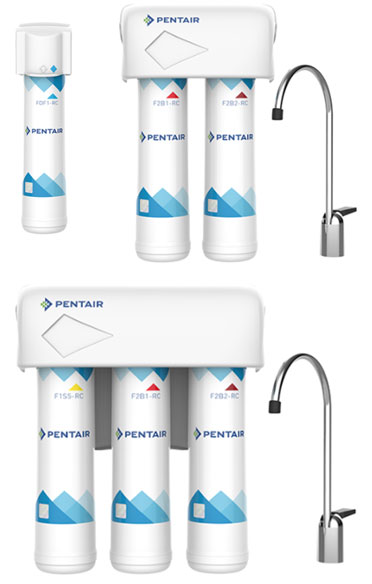 Solution 2 - Reverse Osmosis
What is Reverse Osmosis (RO)?
Reverse Osmosis (RO) systems perform three actions; Water Filtering, Reverse Osmosis and clean drinking water storage.
RO systems generate drinking water at a slow rate based upon the time needed for water to be pressed through a membrane by water pressure. For this reason, a reserve tank of clean drinking water is stored in a pressurized tank.
RO systems remove difficult or impossible to filter contaminants in the water. Excess chemicals used when disinfecting municipal water, including some considered carcinogens, require an RO system for removal. A clear advantage over filtered water pitchers which only filters for taste.
RO drinking water is dispensed through a dedicated faucet. The chart to the right summarizes the substances removed.
The chart below summarizes the substances removed.
A few impurities found in tap water that can be removed with Reverse Osmosis filtration technology:
Flouride
Chlorine & Chlormamine
Detergents & more
Lead
Pesticides
Nitrates & Sulfates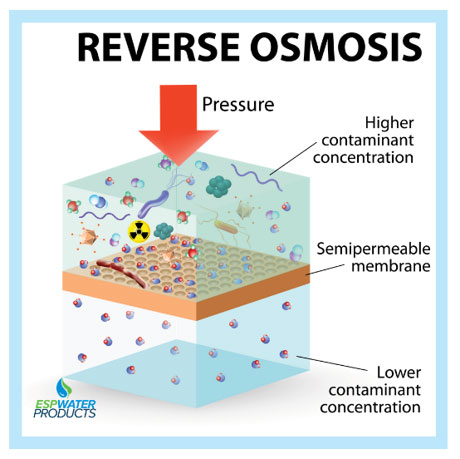 Solution 3 - Advanced Filtration + RO
Reverse Osmosis (RO) - PROFESSIONAL
Armstrong's Premier RO system is the Pentair Freshpoint RO System.
The Freshpoint RO filter cartridges remove various contaminants from the water based upon their 3, 4 or 5 stage configuration.
The cartridge timer provides a visual indication of when replacement is recommended for the filter cartridges.
Freshpoint is the newest technology, most flexible, most capable, and space saving RO solution. It is a CARTRIDGE-based system.
The system may be purchased in 3, 4 and 5 stage configurations, meaning water passes through 3, 4 or 5 filters when being cleaned.
The highly efficient Freshpoint RO makes up to 75 gallons of clean water per day and stores it in a 3.2 gallon tank.
Color-coded cartridges are suitable for homeowner replacement.
May be installed under the sink or within 20' in the basement or other area (where a water supply and water drain are accessible).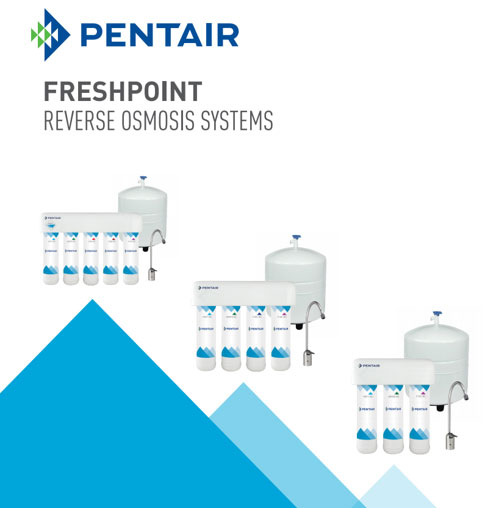 What Is Being Removed From Your Water